Nick Mauss: Transmissions
Nick Mauss (b. 1980) is a multidisciplinary artist who makes performance art, drawings, and paintings. His career pursues a hybrid role of artist, curator, and scholar. His exhibition at The Whitney, Transmissions, demonstrates this as he explores the relationship between ballet and avant-garde visual artists from the 1930's to the 1950's.
Mauss graduated from Cooper Union in 2003 and now lives and works in New York and Berlin. He has taught art at Hochschule für Bildende Künste in Germany and Bard College in New York.
The goal of this show is to challenge the image of ballet as a rigid and pure discipline. "The focus of the show is a moment in the history of New York where ballet and the avant-garde reacted very intensely with one another," says Mauss. "Roughly in the 1930s to 1950s a lot of people have associations of rigidity and purity when they think about ballet but in fact it's something that's sort of constantly scraping against itself and breaking open and reinventing itself."[1]
The exhibition features a collection of artworks from Mauss and many other artists. He also collaborated with a group of dancers to choreograph a ballet performance that takes place in the middle of the floor. This performance "doesn't really have a beginning or an end"[1] as viewers might arrive when the dancers are absent, warming up, or running through the choreographed sequence. The choreography is designed to complement the pieces on display in the show.
The piece that resonated with me the most is Mauss' Images in Mind (2018). At first glance this appears to be a painting on the surface of tiled mirrors, but after closer inspection I discovered it is a painting on the opposite side of the glass that had a mirrored coating applied. Imperfections in the mirrored coating add detail and character to the work. It also appears Mauss moved the tiles around as he was painting them, as neighboring tiles don't always have drawings that match up.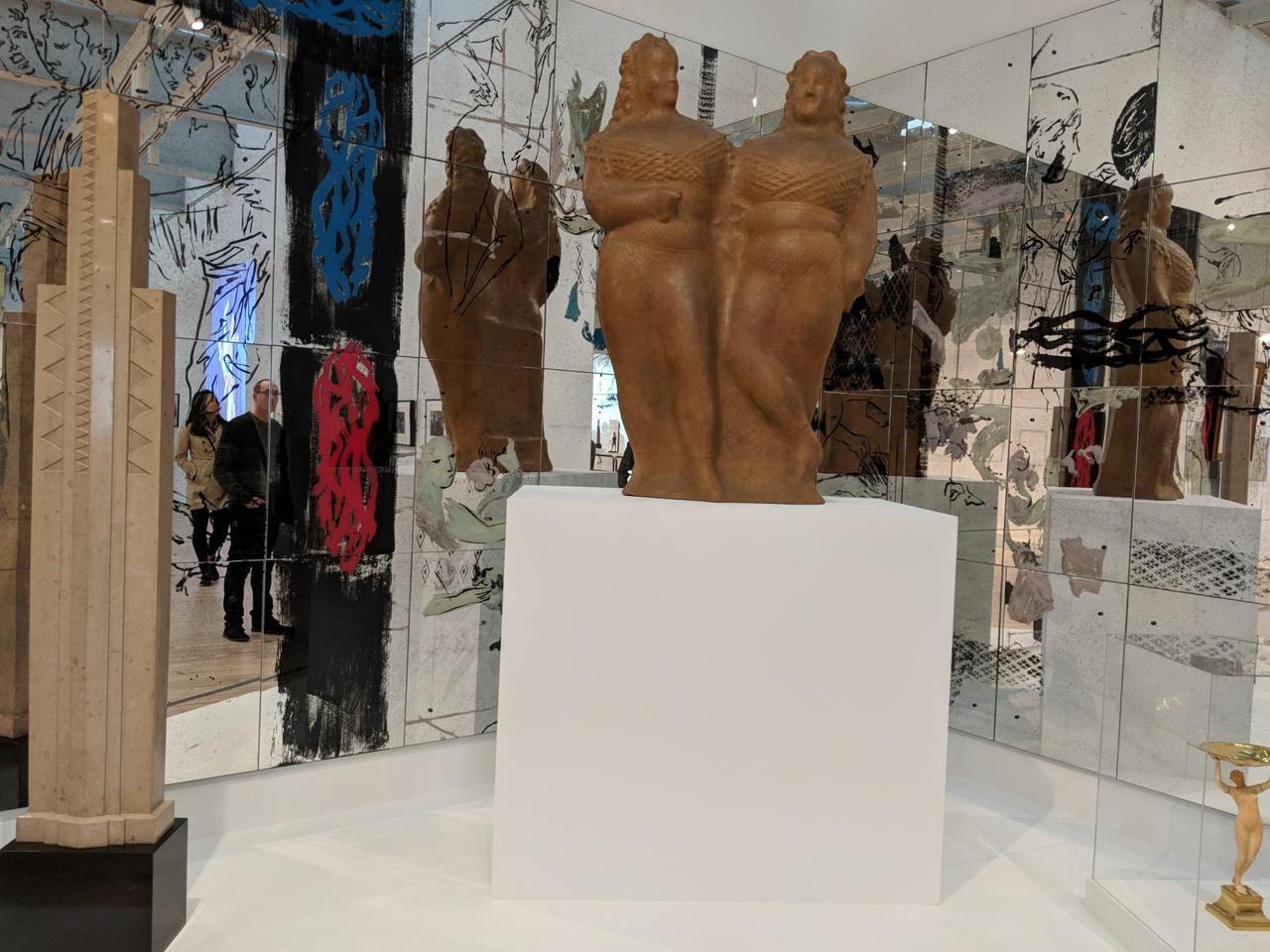 Nick Mauss' Whitney exhibition is a multidisciplinary collection of his work and the work of other artists. The choreographed ballet performance at the center of the exhibition space contributes to Mauss' stated goal of challenging the view of ballet as a rigid discipline. Mauss is taking on the role of a curator and scholar in addition to an artist as he educates the public about the history of the ballet world.
[1] Whitney Museum of American Art. "Nick Mauss: Transmissions." Online video clip. YouTube, 15 Mar. 2018. Web. 26 Mar. 2018.
[2] Frey, Angelica. "An Exuberant Exhibition Embodies the History of American Modernist Ballet." Hyperallergic. 21 Mar. 2018. Web. 26 Mar. 2018.
[3] Whitney Museum of American Art. "Nick Mauss: Transmissions." The Whitney. 16 Mar. 2018. Web. 25 Mar. 2018.
[4] 303 Gallery. "Nick Mauss Biography." 303 Gallery. Web. 25 Mar. 2018.