The New York Times headquarters building in New York City houses the digital and text-based work Moveable Type (2007). This was created by artist Ben Rubin and statistician Mark Hansen. The work was created at the request of the newspaper. The Times was looking for something "iconic and timeless" that spoke "to the 150 year history of the Times, and also to the digital future." [2] The piece took four years to design and build.
Except for a small engraved metal plate, no information about the piece is provided to viewers. Thankfully information about the work is available online, most notably a New York Times article from 2007 reporting the work. The installation is powered by Python code that extracts information from the newspaper's historical database and current website activity. It is programmed to use several different algorithms to analyze everything from wedding announcements to the crossword puzzles, selecting things like sentences that start with "I" or "You" or sentences with numbers. At night, when most employees have gone home, the installation "dreams" and pulls information from deep within the newspaper's archives.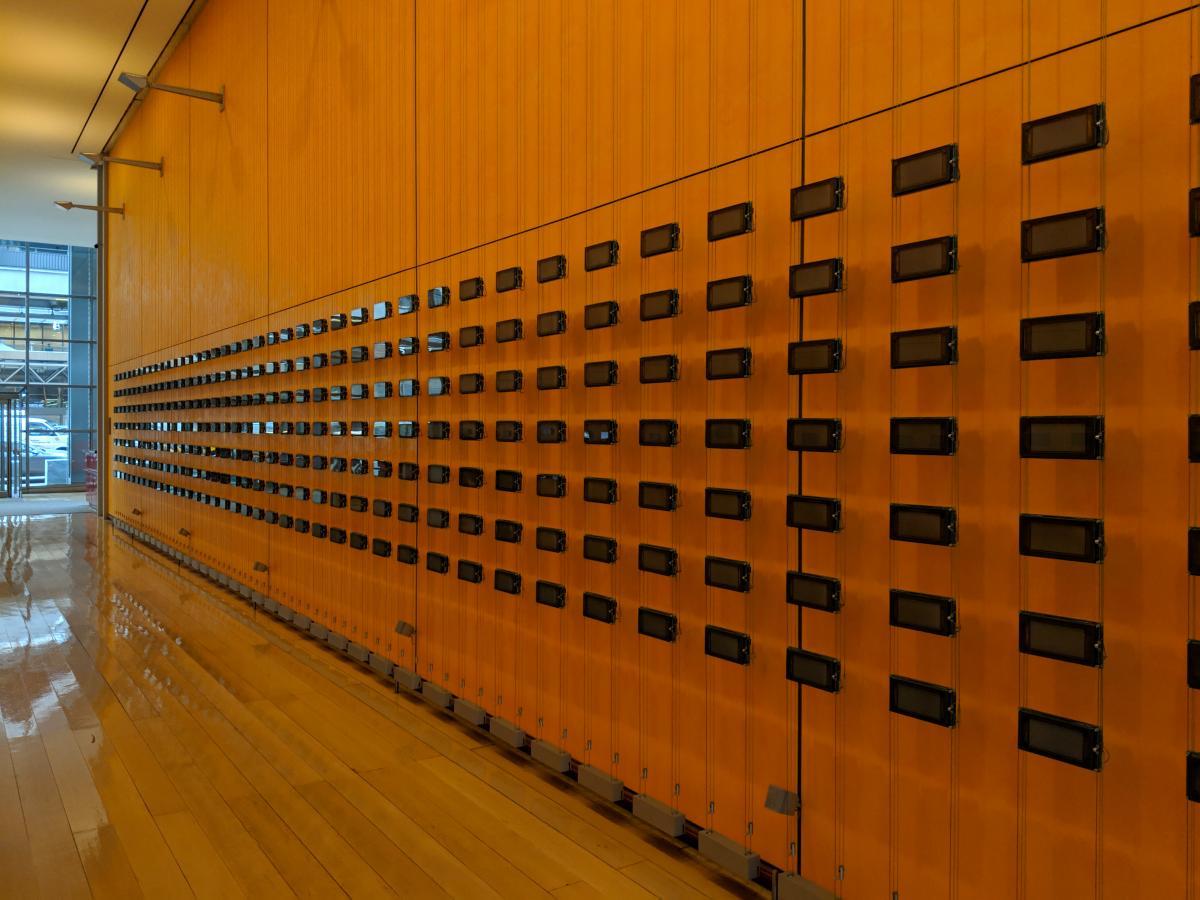 The work is similar to Listening Post (2003), created by the pair for the Whitney. [3] That work was extracting data from Internet chat rooms and public forums. Both works featured similar array of small electronic screens and a minimalist aesthetic. Both works also extract text information from a large source and repackage it in ways that enable us to examine it in a new way. When I visited it I stood there for half an hour watching and reading the text that appeared on the screen. The various algorithms felt like new games and I was patiently waiting to see what it would do next.
Moveable Type (2007) is an encouraging example of a collaboration between an artist and an engineer. Hansen, a statistician at Bell Labs, and Rubin, a professor at the Parson's Institute in New York City, have worked together on many projects for at least a decade. Together they founded The Office for Creative Research along with ITP grad Jer Thorp. I can only hope that when I graduate I am able to cultivate such rewarding collaboration opportunities as these!
[1] News Flows, Consciousness Streams: The Headwaters of a River of Words
[2] Moveable Type at the New York Times building
[3] Listening Post at the Whitney (2003), part 1 & part 2
[4] ART IN REVIEW; Mark Hansen and Ben Rubin -- 'Listening Post'