Adrian Piper: A Synthesis of Intuitions
Adrian Piper (b. 1948) is an American conceptual artist and philosopher whose art career has spanned 5 decades. Her work addresses racism and the marginalization of minorities in western society by challenging us to face our racist views and attitudes. The artistic message is more than simply being critical of racism; it is about facing the illusions we tell ourselves about the reality of how appropriately we treat minorities and people of color.
Piper was born in New York City and attended a private school with mostly wealthy white students. She earned an associate's degree from the School of Visual Arts in 1969 and a bachelor's degree in Philosophy from the City College of New York in 1974. She went on to study Philosophy at Harvard where she received her master's and PhD in 1977 and 1981. While studying in these programs she was also involved in New York's art community, working at the Siegelaub Gallery and meeting other prominent artists of the time.
MoMA's retrospective of Piper's art career on the 6th floor of the museum is the first time the entire floor has been devoted to a retrospective of a living artist. The show demonstrates the breadth of Piper's art career, featuring paintings, photographs, drawings, multimedia installations, video work, and performance pieces.
The most thought provoking work is a printed copy of Piper's My Calling (Card) #2 (1986) that I found on the museum floor as I was exploring the show. This card is similar to the cards Piper would hand to people when they said or agreed with racist remarks in her presence. As Piper is a black woman with light skin who is frequently misidentified as white, she is often a witness to the behavior of white people when they (we) believe no black people present. I found her calling card to be thought provoking because I remember how people behaved in the 80's when I was in elementary or middle school. People actually did behave differently when black people were not around, and regrettably, this behavior sometimes included racist jokes or comments that I would laugh at. I can't imagine how I would have felt if someone handed me one of these cards. Sad? Embarrassed? Ashamed? I do know that in handing out these cards Piper is demonstrating that she is a more mature adult than the recipients. I am glad that she made these cards and handed them out to people. They quite successfully and concisely motivate people to recognize her humanity and how wrong racist behavior is.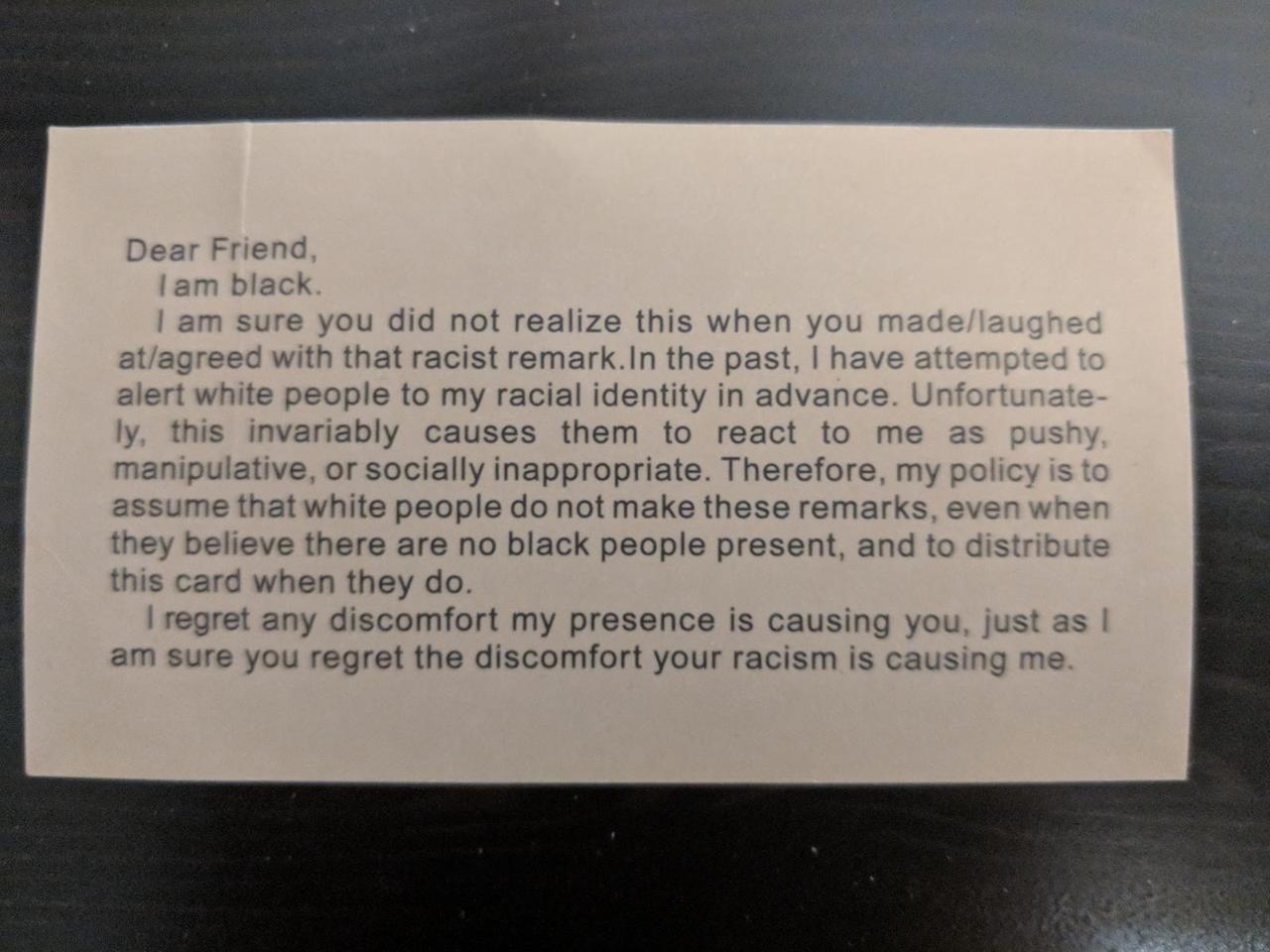 Motivating people to think critically about their views on race and racism is central to her work. In 1991 Piper wrote, "I find it discouraging when someone says of my work, 'The message is obvious, she's against racism.' I think that expresses an unwillingness to pursue the implications of the issues and strategies I explore in the work…" She goes on to write, "I just want to penetrate the layers of illusion and self-doubt as far as possible and do it cleanly without losing any of the mind-bending complexity of the issues."[2] Her artwork does this quite successfully.
Adrian Piper is a talented conceptual artist and a prominent figure in art world's efforts to use art to address social causes. Her carefully crafted artwork motivates the viewer to recognize the humanity of minorities and the reality of the racist attitudes and behaviors that are a part of our culture.
[1] Wikipedia contributors. "Adrian Piper." Wikipedia, The Free Encyclopedia. Wikipedia, The Free Encyclopedia, 6 Apr. 2018. Web. 9 Apr. 2018.
[2] Adrian Piper. "Dislocations." Adrian Piper. 1991-92. Print on wall. 6 Apr. 2018.
[3] MoMA. "Adrian Piper: A Synthesis of Intuitions, 1965–2016." MoMA Museum. 31 Mar. 2018. Web. 8 Apr. 2018.
[4] David Velasco. "Adrian Piper: A Synthesis of Intuitions, 1965–2016." Art Forum. 31 Mar. 2018. Web. 8 Apr. 2018.